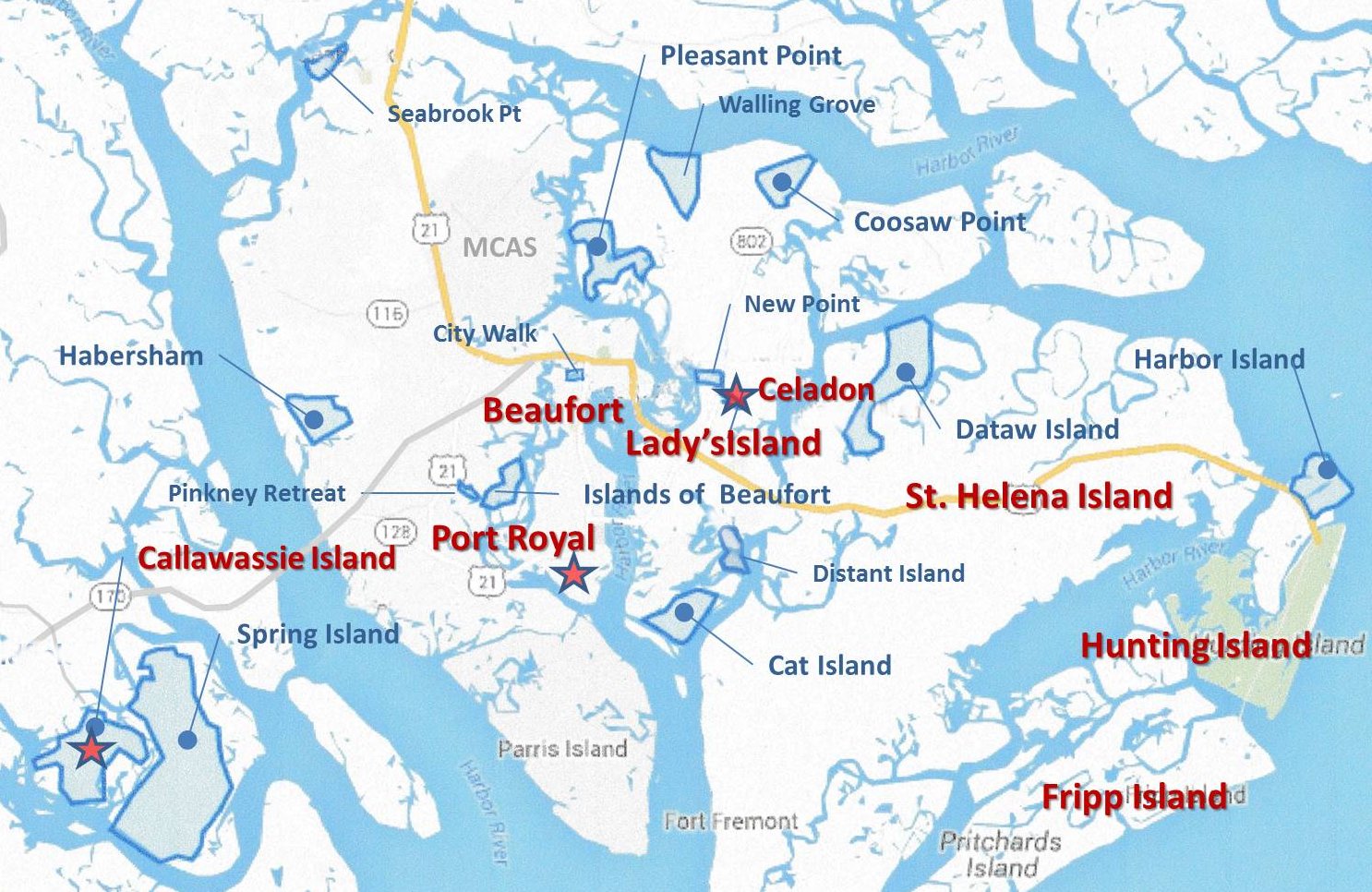 The above map provides a lay of the land to assist in
Navigating the Beaufort Lowcountry.
Leaving the town of

Beaufort and heading southeast

, cross the draw bridge onto Lady's Island where you will find the featured communities of Celedon*, Cat Island, Coosaw Point, New Point and Pleasant Point, along with the smaller communities of Distant Island, Ashdale, Walling Grove, Somerset Point, and Oyster Bluff.
Leaving Lady's Island east, enter St. Helena Island which leads to Dataw Island, Bermuda Bluff Island, Lands End.
Continue on to Hunting Island (a State Park with beaches and light house), Harbor Island and finally Fripp Island.

Leaving Beaufort heading south

will lead to Port Royal* with the neighborhoods of Azalea Square, Wrights Point, Old Shell Point and Willow Point.
Continue southwest over the Broad River bridge to the communities of Callawassie Island* and Spring Island.
Continue further to find myriad of communities South of the Broad that associate more with Hilton Head.

Leaving Beaufort heading northwest

, will lead toward Charleston and Interstate 95. In that direction you will find the communities of Seabrook Point and Bull Point.

Within Beaufort

you will find several neighborhoods featured communities including City Walk, The Islands of Beaufort, Overlook at Battery Park, Pinkney Retreat. A little farther west out the Broad River is Habersham.
Webpages for communities can be found under the Search Communities Tab –
All Communities
.
____
* Coastal Real Estate Solution locations are strategically located at Port Royal, Callawassie Island and Lady's Island (Celedon community) shown with a RED STAR.